Sydenham Wedding DJ

Home - Wedding DJ - Mobile Disco Hire - Children's Disco Hire
Service Area - Options - About Us - Contact Us
JMF Disco provides expert, experienced Wedding DJs in Sydenham within the London Borough of Lewisham, ensuring you get the perfect wedding entertainment for your special day.
If you are looking for a great wedding disco, JMF Disco will provide you with a good experienced Wedding DJ in Sydenham and provide you with all the help you need to host a fabulous wedding reception.
JMF Disco will provide you with the perfect solution for your wedding entertainment, with a reliable, experienced, professional wedding DJ hire service, providing you with all the help you need with planning the 'formalities' and providing you and your guests with a great party which will be the perfect ending to your special day using our service.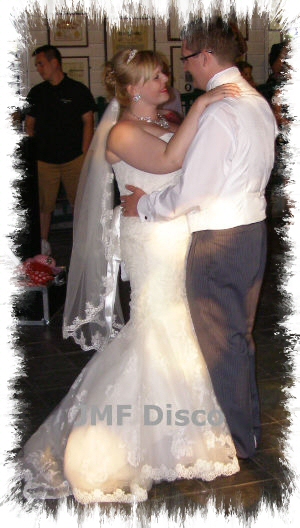 Search Our Site For The Wedding Disco Service You Are Looking For!

Why we are one of the best wedding discos in Sydenham
We will provide you with much more than just great music. Our aim is to provide you with all the help you need, from your initial phone call to seeing your happy guests leaving after a wonderful nights entertainment, at your perfect wedding reception provided by JMF Disco.
We will provide you with a comprehensive wedding dj package.
Personal Service
Our great personal service ensures your wedding reception entertainment is exactly as you want.
Backup DJs
I have a select group of great wedding DJs working with me, which allows us to provide you with a great reassurance that no matter what happens (well almost no matter what!) you will have a great DJ at your wedding - something that many other solo DJs just cannot offer, and something that brides and grooms do not appreciate until it is too late! We will not let you and your guests down.
Expert Help
As well as providing you with a reliable, experienced wedding DJ, with a wealth of knowledge gained over the years who will ensure your evening will be a memorable occasion for you and your guests, and a great looking and sounding disco complete with effects lighting, I will help you with your arrangements from this initial enquiry until your guests leave singing and dancing at the end of the night to make your evening very special.
Our Special Wedding Reception Planner Pack
As part of my personalised wedding service I will provide you with my Wedding Reception Planner Pack (this is not person - this is a document - I point this out because some clients get confused about this!). The Wedding Reception Planner Pack helps to gather your thoughts on how you want your wedding reception to run, and gives a bit of help and guidance if you need it.
Experienced Knowledge and Expertise
As well as our Wedding Reception Planner Pack, you will also have unlimited access to the knowledge and expertise of one of the most experienced Wedding DJs around - me! I have helped 100's of brides and grooms with their wedding entertainment. I do not know everything - there are plenty of other DJs out there that say that they do if they are of interest to you - but I do have a wealth of knowledge that I will share with you and help in any way that I can to ensure that your wedding is a great success. PS If I don't know it my sister most probably does!
Wedding Reception Timeline
The Wedding Reception Planner Pack sets out a 'timetable' (a guideline really as timetable sounds too rigid and timings on the day will flex) for your special evening - start and finish times, background music during your wedding breakfast, speeches, first dance, bridal party dances, cake cutting, buffet, bouquet throw, time for your departure etc. and any other 'spotlight events' you would like to happen at your reception - you may want to make some speeches, present some gifts, - what ever you want to happen (or not!) at your reception can be catered for. It's your special day and I will ensure you get just that - your celebration can be as formal or informal as you want to reflect the style of wedding party that you have in mind.
Entertaining the Kids
We can even run a few games to keep the kids entertained early evening as guests catch up with each other if that was of interest - it might not be appropriate for all weddings but it might be for yours - it's an option we offer - the 'big kids' can join in too!
Expert Wedding Ceremony Music Service
We can also provide with our expert wedding ceremony music service. We will provide a suitable PA system, set at an unintrusive volume to ensure that your guests are entertained with appropriate background music awaiting the brides arrival, playing your chosen processional, signing and recessional music at the appropriate times, working in conjunction with your registrar or vicar. The music will be expertly faded in and out as required - no sudden stops by cousin Kevin or Nikos the waiter at the back of the room on the boom box!
Wedding Breakfast Background Music with Wireless Microphone
We can also play carefully selected or your own specifically chosen background music during your wedding breakfast - a great way to add to the atmosphere or complement your wedding theme and cover up those pregnant pauses or silences in proceedings. As part of this package we will also provide you with a wireless microphone for your speeches.
Master of Ceremonies
We will also make all necessary announcements and introductions - maybe you want a special grand entrance - acting as your master of ceremonies - there is no substitute for an official toastmaster providing you with an additional pair of helping hands resplendent in his or her red coat - but we do a pretty good job!
Oh and We Play Great Party Music!
Holy cow, you still struck with us through all that info - oh one last thing I nearly forgot - we will also play your own great music selections!
Within the Wedding Planner Pack there are sections for you to list out your favourite 'must play', 'would love these as well', background music' and 'Do Not Play' songs.
This gives you the opportunity to let us know the type of songs you want played and do not want played - you can have as much input into the music selection as you want.
You can provide us with a long list of your favourite songs or lean on our experience and guests requests on the night so everyone has the chance to dance to their favourite songs - as with everything else we do for you - the choice is yours.
We are not one of the cheapest Wedding DJs in Sydenham and here's why:
we will provide you with a good, experienced mobile DJ

we will provide you with a good looking mobile disco that uses modern, reliable equipment

we are fully insured and use PAT Tested equipment - we will provide copies of these to your venue if required - do not book a DJ without these as your venue may not allow them to set up!

we care about your event and will work with you to put together the party you want so that you and your guests have a great time - see what we do for you above!
Connect with us - click on a link to get the latest:


&nbsp

&nbsp

&nbsp



Can You Spot Anyone You Know In This Video?


Get A Quote For Your Wedding DJ In Sydenham
We like to provide our clients with that little bit more - we provide you with what you want, need and deserve for your celebration - it is a special occasion and should be treated as such.
Doing it right requires an experienced DJ with the right skills and resources that we will bring to your celebration by using our Wedding DJ Sydenham service.
It's the personal attention to detail and planning that will bring your party to life.
JMF Disco will provide you with all the help you need to organise your special day, including providing you with a custom Wedding Planner Pack to help organise your special day and the music you want to hear to help make your evening unforgettable.
We take care of the entertainment allowing you to concentrate on being the best host.
Contact John on Tel 01795 429777, Mobile 07895 546183 or by email to discuss your Wedding DJ Sydenham service needs or questions.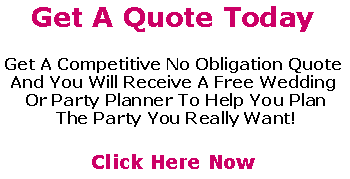 Keeping current with the latest DJ disco music - 5th August 2022 Chart News
Staying upto date with all the latest chart hits is part of the work that goes on in the background to ensure your mobile discotheque has all your favourite latest greatest tunes.
This week LF System stays in the top spot in the singles chart with Afraid To Feel and Beyonce takes the top spot in the album charts with her album Renaissance.
Full details here.
We provide great wedding DJ and wedding disco hire services throughout
Lewisham
and across the whole of
London
.
Contact JMF Disco to discuss your requirements
- I'm sure I can provide you with the Sydenham Wedding DJ you really want!
© 2022 JMF Disco. All Rights Reserved. Terms Of Use. Privacy & Cookie Policy. Latest Updates. Contact Us.