General Information Page about JMF Disco - The Party Mobile Disco.
'Our most important event.....is yours!!!!
JMF Disco is presented by owner DJ John Padmore who personally arranges your disco from initial enquiry to seeing your guests singing out of the door at the end of a successful night.
That's me on the below! I will ensure that everything that you want goes how you want it to - I can't guarantee the weather but.....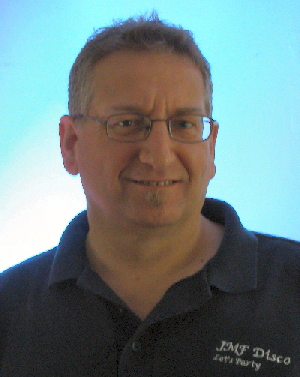 With many years of experience, the ability to cope with all types of functions and a genuine passion for a wide variety of music.
I will do all I can to make your party a uniquely memorable event - I never forget it's your party and will help you organise your entertainment how you want it.
Connect with us - click on a link to get the latest:


&nbsp

&nbsp

&nbsp

Search Our Site For The Service You Are Looking For!

General Information
JMF Disco is based in Kent, but as a mobile disco we serve the south east corner of the country including Kent, Essex, London, Surrey and Sussex. We do travel further afield for guests that we have impressed locally for their weddings and celebrations elsewhere in the country - it's nice to be liked!
Whether it's a wedding, engagement, birthday, corporate event, children's party, a themed fancy dress party or just because you want a party party, you will always receive the same high level of personal service and helpful advice to ensure your function is as good as you planned it to be.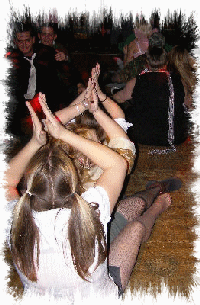 I am a member of the National Association of Disc Jockeys - NADJ - my profile can be seen here:- https://nadj.org.uk/dj/kent/sittingbourne/mobile-dj/jmf-disco/ - so you (and your chosen venue) are assured that I am fully insured with £10,000,000 public liability cover and all my disco equipment is PAT Tested - do not book a disco without such insurance or PAT Certificate as your venue may not let them set up without it!
I am also a member of SEDA (South Eastern Disco Association) that was set up in 1974 to promote a professional approach to the art of the DJ. As a member SEDA, JMF Disco is required to follow a Good Practise Guideline for the benefit of our clients.

Every event is different - you may want or need a small discrete set-up with minimal lighting or you may be looking for that vibrant nightclub feel with moving head lights and scanners beaming light through a haze filled room - the choices are endless but they are your choices and JMF Disco will meet and exceed your requirements.

Why You Should Choose Us

When you book JMF Disco for your event and you can rest assured you wont be getting some agency DJ that knows nothing about what you want, who will play the same set of songs that he played last weekend, you will not get the DJ's mate who is filling in for him because he's got another booking on that night as well or a scruffy teenage DJ that has never heard of Dancing Queen by ABBA!
JMF Disco will play the music you want to hear, presented by a DJ dressed appropriately for the occasion, doing everything he can to make your night special and successful because that's what I love to do!
JMF Disco uses modern sound and lighting equipment that is regularly tested for electrical safety (PAT Tested) and checked before each event to ensure everything is safe and correctly working.
JMF Disco is covered by £10m public liability insurance which many venues may require.
JMF Disco will ensure that appropriate sound, lighting and effects are provided and safely set up for your event following discussions with you on your requirements and chosen venue. JMF Disco can provide entertainment and suitable equipment to suit most types of venues including pubs, clubs, restaurants, hotels, village halls, marquees etc. - we can even scale down our set up to provide entertainment at your next house party!

I guarantee to provide you with a friendly, reliable, professional service - I want you to be completely satisfied with my service - after all I want you and your friends to book me again!!
Unfortunately there is only one of me to go around (book early!), however if I am already booked I can still provide you with one of my hand-picked premium DJs in Kent, that work for me regularly, to ensure that your party is as great as you want it to be!

JMF Disco - the professional way to party!!
Keeping up to date with the latest DJ disco music - 1st December 2023 Chart News
Staying current with all the latest chart hits is part of the work that goes on in the background to ensure your mobile discotheque has all your favourite latest greatest tunes.
This week Jack Harlow remains in the top spot in the singles chart with Lovin On Me and Take That take the top spot in the album charts with This Life.
Full details here.
Regional Mobile Discos
Kent - Ashford - Aylesford - Broadstairs - Canterbury - Dartford - Deal - Dover - Faversham - Folkestone - Gravesend - Herne Bay - Maidstone - Margate - Medway - Ramsgate - Rochester - Sevenoaks - Sheerness- Sittingbourne - Tenterden - Thanet - Tonbridge - Tunbridge Wells - Whitstable
Bexley ¦ Bromley ¦ Croydon ¦ Greenwich ¦ London ¦ Surrey ¦ Sussex
Regional Wedding DJ
Kent - Ashford - Aylesford - Broadstairs - Canterbury - Dartford - Deal - Dover - Faversham - Folkestone - Herne Bay - Maidstone - Margate - Medway - Ramsgate- Rochester - Sevenoaks - Sheerness - Sittingbourne - Tenterden - Thanet - Tonbridge - Tunbridge Wells - Whitstable
Bexley ¦ Bromley ¦ Croydon ¦ Essex ¦ London ¦ Sussex ¦ Surrey
Contact JMF Disco to discuss your requirements
- I'm sure I can provide you with the party you really want!
© 2023 JMF Disco. All Rights Reserved. Terms Of Use. Privacy & Cookie Policy. Latest Updates. Contact Us.