Wedding Anniversary Disco Party DJ



Home - Wedding DJ - Mobile Disco Hire - Children's Disco Hire
Service Area - Options - About Us - Contact Us
If you are thinking about celebrating a landmark wedding anniversary, JMF Disco can provide you with a great wedding anniversary disco, with an experienced DJ and provision of our special Wedding Anniversary Party Planner Pack to help you with the arrangements, and ensure you and your guests will celebrate in style, playing all your favourite music.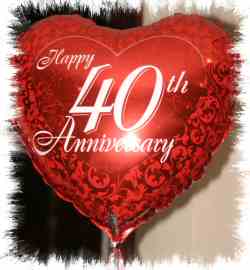 We realise that your anniversary is a reminder of one of the best days of your life, and as such requires the right DJ to ensure that those memories are reflected in the music that we play to bring back all those happy memories - and of other special times in your life together.
Arranging an Anniversary Party is a great way for family and friends - old and new - to come together and share and celebrate the special times that you have had together.

JMF Disco will provide the perfect solution for your anniversary entertainment, with a reliable, experienced, professional DJ hire service, providing all the help you need with planning the 'formalities' and providing you and your guests with a great party which will be the perfect ending to your special day using our wedding anniversary DJ service.
Search Our Site For The Service You Are Looking For!

Important Wedding Anniversaries
All wedding anniversaries are important, but over time some anniversary dates have become more significant, and are the perfect reason to bring family and friends together to celebrate.
1st - Paper - you might not want a party for this one - but you had better not forget it!
5th - Wood
10th - Tin
15th - Crystal
20th - China
25th - Silver
30th - Pearl
40th - Ruby
50th - Gold
60th - Diamond - book us for this and get a £60.00 discount off the quoted price
70th - Platinum - book us for this and get a £70.00 discount off the quoted price

Our Experienced DJs
Our experienced DJs have a wide musical knowledge, so if you are looking for someone to play all your favourite timeless classics or more up to date chart hits, we can cater for your needs. We also use special amps that have a volume control that goes down as well up up - that many 'DJs' do not have or know how to use! Is there any thing worse thank having very loud music blaring out when you are trying to catch up with friends and relatives you have not seen in a long while?
Our music collection spans the decades from the Rock & Roll years of the 50's to today current chart toppers. We can also cater for well know favourite from the 30's and 40's - a bit of Charleston or hits from the war years for anyone? Especially helpful if you want to theme your wedding anniversary party.
We are very experienced in knowing what music works well at Anniversary parties, we base it on the music you like but can also provide for your guests - as there tends to be a wide age range of guests at these events - giving everyone the chance to listen to their favourites.
Themed Anniversary Parties
Why not theme your anniversary party to make it a bit more memorable, asking guests to dress for the occasion
50's Rock & Roll Party
60's party with all your favourite early rock tunes from the Stones or Mowtown favourites
70's themed party - a chance to play your favourite disco, Grease and Glam Rock hits
80's an ever popular decade of music with many peoples party favourites, a bit of Ska, New Romantic or Dirty Dancing!
With the Anniversary Party Planner Pack we provide you with you can list out your favourite tunes that you want playing from when you first met at that village hall dance or disco way back when.
Why we are one of the best mobile discos for anniversary celebrations
We will provide you with much more than just great music. Our aim is to provide you with all the help you need, from your initial phone call to seeing your happy guests leaving after a wonderful nights entertainment, at your perfect party provided by JMF Disco.
JMF Disco's mobile disco hire Chalk service will provide you with the entertainment you want for your dream celebration at any venue in Chalk and the surrounding areas - why settle for anything less?
We are not one of the cheapest mobile discos for your wedding anniversary party and here's why:
we will provide you with a good, experienced mobile DJ

we will provide you with a good looking mobile disco that uses modern, reliable equipment

we are fully insured and use PAT Tested equipment

we care about your event and will work with you to put together the party you want so that you and your guests have a great time
Connect with us - click on a link to get the latest:


&nbsp

&nbsp

&nbsp



Can You Spot Anyone You Know In This Video?
:)

Get A Quote For Your Wedding Anniversary Entertainment
We like to provide our clients with that little bit more - we provide you with what you want, need and deserve for your celebration - it is a special occasion and should be treated as such.
Doing it right requires an experienced DJ with the right skills and resources that we will bring to your celebration by using our special wedding anniversary disco service.
It's the personal attention to detail and planning that will bring your party to life.
JMF Disco will provide you with all the help you need to organise your special day, including providing you with a custom Party Planner to help organise your special day and the music you want to hear to help make your evening unforgettable.
We take care of the entertainment allowing you to concentrate on being the best host.
Contact John on Tel 01795 429777, Mobile 07895 546183 or by email to discuss your special occasion.
Keeping current with the latest DJ disco music - 28th May 2021 Chart News
Keeping up to date with all the latest chart hits is part of the work that goes on in the background to ensure your mobile discotheque has all your favourite latest greatest tunes. This week Olivia Rodrigo takes over the top spot in the singles chart with Good 4 U and takes the top spot in the album charts with Sour. Full details here.
Get quotes for our other mobile disco DJ hire services we provide
here
Contact JMF Disco to discuss your requirements
- I'm sure I can provide you with the wedding anniversary disco you really want!
© 2022 JMF Disco. All Rights Reserved. Terms Of Use. Privacy & Cookie Policy. Latest Updates. Contact Us.