Looking For A Mobile Disco In Croydon?
If you are looking for a mobile disco in Croydon, JMF Disco will provide you with a good experienced party DJ and provide you with all the help you need to host a great party.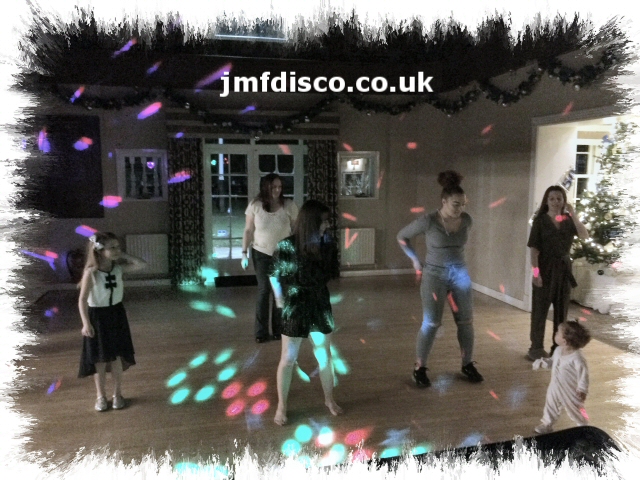 JMF Disco will provide the perfect solution for your party entertainment, with a reliable, experienced, professional DJ hire service, providing all the help you need with planning the 'formalities' and providing you and your guests with a great party which will be the perfect ending to your special day using our Mobile Disco Croydon service.
Why Choose JMF Disco?
We will provide you with much more than just music. Our aim is to provide you with all the help you need, from your initial phone call to seeing your happy guests leaving after a wonderful nights entertainment, at your perfect party provided by JMF Disco.
As part of the package I will provide you with my special party planner pack to help set out how you want the evening to run, timing of speeches and cake cutting, opening of buffet etc., you can list out all your favourite songs you want playing etc. so that we all come prepared for what you want to happen and when, playing great music, with all your favourite songs that you and your guests will dance the night away to. Good parties do not just happen they are created and managed - together we can ensure yours is not just another average McDisco party.
JMF Disco's mobile disco Croydon service will provide you with the entertainment you want for your dream celebration at any venue in Croydon and the surrounding areas - why settle for anything less?
Wedding DJ Hire In Croydon
Mobile Discos For Birthdays In Croydon ¦ Anniversary Discos In Croydon
Children's Discos In Croydon
JMF Disco can help you arrange the best children's party ever! As well as a good mobile DJ and amazing mobile disco, we will provide you with our party planner to choose the music and games you want us to run for you - we take the stress away from organising your kids party - well most of it! - check out our kids disco page for more details
School Discos In Croydon ¦ School Proms In Croydon
School discos are great ways to see the students in a different light and for social interaction - JMF Disco provides a fun and active School Disco Croydon service for your Primary or Secondary school party, school disco or school prom. School discos held mid week from Monday - Thursday are very competitively priced - get a quote today - dates in the last week before the end of term get booked up quickly.
Disco Hire For Corporate Events In Croydon
Our experienced DJs have performed at a wide variety of corporate and similar events ranging from black tie balls to football club presentations in Croydon - check out our Disco Services page for our specialist event services
House-warming Party Disco
A house-warming party is a party traditionally held soon after moving into a new residence. It is an occasion for the hosts to present their new home to their friends, post-moving, and for friends to give gifts to furnish the new home. House-warming parties are generally informal. JMF Disco can help add to the party atmosphere and keep your guests entertained.
Retirement Party Disco DJ Hire
You may be planning your own retirement party or planning a special send off for a colleague and/or friend, arranging a truly special party can be difficult for this one time event, but JMF Disco are here to help.
We will provide you with a good experienced DJ with a wide musical knowledge and huge library of music with most of the popular tunes throughout the decades, that knows how to get the party started, knows how to read a dancefloor, and will play all your favourite tunes to ensure your retirement party is one they will remember!
Get A Quote For Your Mobile Disco In Croydon
We like to provide our clients with that little bit more - we provide you with what you want, need and deserve for your celebration - it is a special occasion and should be treated as such.
Doing it right requires an experienced DJ with the right skills and resources that we will bring to your celebration by using our Mobile Disco Croydon service.
It's the personal attention to detail and planning that will bring your party to life.
JMF Disco will provide you with all the help you need to organise your special day, including providing you with a custom Party Planner to help organise your special day and the music you want to hear to help make your evening unforgettable.
We take care of the entertainment allowing you to concentrate on being the best host.
Contact John on Tel 01795 429777, Mobile 07895 546183 or by email to discuss your Mobile Disco Croydon service needs or questions.
Mobile Disco Croydon Resources
Important information about Croydon
JMF Disco offers a special Mobile Disco service throughout Croydon including the following towns and surrounding areas:-
Addington Court Golf Club, Croydon
Beddington Village Hall, Croydon
Croydon Parish Church Hall, Croydon
Gypsy Moth Restaurant, Croydon
Nuffield Health Croydon Fitness & Wellbeing Gym, Croydon
Project B, Croydon
Party venue and bar available for your birthday, wedding or other celebration in the centre of town

Queens Community Hall, Croydon
Queens Community Hall is available for hire for weddings, birthday parties, christenings etc.

Royal British Legion Croydon
Ruskin House Club
The Crown
The Crown & Pepper
The Well Function Hall
Additional Party Services
We can also provide the following additional services to make your event extra special.
Please ask about prices when making an enquiry with us.
Contact JMF Disco to discuss your requirements - I'm sure I can provide you with the mobile disco or mobile DJ in Croydon you really want!
© 2022 JMF Disco. All Rights Reserved. Terms Of Use. Privacy & Cookie Policy. Latest Updates. Contact Us.