Wedding DJ & Wedding Disco Services

Premium Wedding DJ services provided by JMF Disco, providing great discos for traditional, contemporary or weddings that are a little bit different - we never forget it is your special day and it should be done your way!
We are here to help make your wedding day the special occasion you have dreamed of!
You know that your wedding day should be one of the most memorable days of your life, and I know how important it is to you to ensure that it is - after all you only get one chance to ensure that it is - not only will JMF Disco provide you with great wedding reception entertainment, but you get the benefit of our years of experience and expertise to ensure your wedding is as unique as you are.
If you want stress free wedding reception entertainment contact us today to find out how we can help.
JMF Disco will provide you with a great wedding disco and provide you with any help you need with the finer planning of your special day to make sure everything is exactly as you wish - we can't guarantee the weather but...
At JMF Disco we understand how special this day is to you and will work with you to ensure you have the day you have always dreamed of.
Whether its a church wedding, civil ceremony or civil partnership - it's a day that you want to remember but all too often the happy couple are running around on the day with so many things to do and people to catch up with that the day goes by in a blur - by engaging JMF Disco you will have several less things to worry about.
You maybe looking for the full day package or just the evening reception Wedding DJ entertainment - with JMF Disco your wedding will run smoothly and you and your guests will have that special day or evening to remember.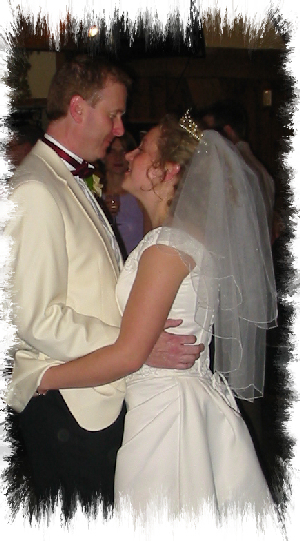 Every wedding is different and I aim to provide you with a personalised service to give you what you want so please email or phone to discuss your requirements, alternatively we could meet at your intended venue to provide you with your perfect entertainment package.
After providing you with a written confirmation of your booking, included in my competitive price is a 'Client Consultation' meeting if required where I help you plan your party the way you want setting out a 'timetable' or programme of events (a bit of flexibility is always needed as many weddings do run late!)
When do you want us to set up?
When is your first dance?
Are there to be a parents dances following that?
Is there a buffet and when is that to be opened?
When is the cake to be cut?
Do you want a bouquet or garter throw?
Do you want to make some speeches/ say thanks to the evening guests?
When are you leaving?
Do you want to leave going through an arch formed by your guests etc.
And a whole host of other items that you may want for us to introduce into the evening to make you wedding reception as unique as you.
You may not want any of these ideas but that is what JMF Disco is about, organizing your wedding disco entertainment to run the way you want it, leaving you with several less things to worry about on your special day (another item to tick off that long to do list!).
At the Client Consultation meeting we will discuss your musical requirements
What special song do you want to have your first dance to
What songs do you want for any parents dances
What songs do you definitely want played?
What songs do you not want played?
What song do you want to leave to etc.
What announcements do you want to be made and when (we can act as your 'unofficial' toastmaster - there is no substitute for a 'Man In Red' but we do a pretty good job!)
I will provide you with an Wedding Reception Planner Pack to help with the planning and musical choices (and letting us know what songs you do not want to hear!) - we are happy to play to your own play list but normally we have found if you provide me with say a list of about 20 must have songs then that leaves us with some scope to integrate these songs into the evenings playlist and allows for us to vary the music a bit to suit all ages and tastes and encourage everyone up on the dance floor - yes even Aunty Ethel!
Wedding Resources
Practical Advice on Choosing Your First Dance Song
Connect With Us - click on a link to get the latest:


&nbsp

&nbsp

&nbsp


Search Our Site For The Service You Are Looking For!


In the full day package JMF Disco will:
Set up the disco before any of your guests see the room (the equipment can be set up the previous day if such facility is available)
Suitably styled to suit your own requirements
Provide a wireless microphone set up for your speeches where required
Will remain on site to offer assistance with use of PA equipment (or any other setting up assistance you might need)
Play carefully selected background music
Keep the youngsters attending the event busy with some games to allow the older guests a bit of free time to mingle) if required till the start of the evening reception.


If a separate 'Chillout' room is available background music can be played in there during the day.
Then your Wedding DJ will provide you with a fantastic disco playing the music you and guests want to dance to, as well as introducing you for your first dance, any other bridal party dances, arranging for throwing of the bouquet, return of the garter and similar events you would like to plan and staging your official exit together.
All the arrangements to make your day special will be arranged with a 'Client Consultation' meeting and comprehensive pre-event contact to plan your perfect day (a few suggestions and a bit of guidance will turn your special day into a very special day).
Alternatively JMF Disco can be engaged just to provide the evenings disco entertainment with a fantastic disco playing the music you and guests want to dance to, as well as introducing you for your first dance, any other bridal party dances, arranging for throwing of the bouquet, return of the garter and similar events you would like to plan and staging your official exit together. All the evening arrangements will be planned with the same pre-event contact as the full day package to ensure your event goes as smoothly as you would want.
Early set ups and provision of radio microphones for speeches can be provided as an extra to the evening only package if required.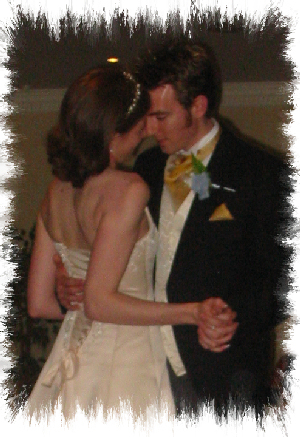 The thing to remember about your wedding music is your Wedding DJ isn't just playing for you, but for all your wedding guests. So it's very important to choose songs that appeal to everyone in the room, this will help make sure that the dance floor is never empty.
A good Wedding DJ will both listen to what you want played but also be firm about what he 'knows' needs to played. If a Wedding DJ simply takes your list and plays your songs one after another, it can ruin the atmosphere, on the other hand if he simply ignores your list it will probably ruin your night.
JMF Disco has a large library of songs that has something for everyone in it - we will encourage requests on the night to play the music that your guests want to hear - we can't promise to have everything requested on the night but we do carry most of the popular songs.
If you are also having other entertainment at your reception such as a band or singers, JMF Disco are happy to work in conjunction with other performers.
General advice on Wedding DJ prices can be found here:- Wedding DJ Cost
If you want your wedding to run as you want please email or phone to discuss your Wedding DJ requirements - together we make a great team!
Keeping current with the latest DJ disco music - 13th May 2022 Chart News
Staying up to date with all the latest chart hits is part of the work that goes on in the background to ensure your mobile discotheque has all your favourite latest greatest tunes.
This week Harry Styles stays in the top spot in the singles chart with As It Was and Arcade Fire takes the top spot in the album charts with We.
Full details here.
Contact JMF Disco to discuss your requirements
- I'm sure I can provide you with the Wedding DJ and memorable evening you really want!
© 2022 JMF Disco. All Rights Reserved. Terms Of Use. Privacy & Cookie Policy. Latest Updates. Contact Us.