Mobile Disco Dartford
JMF Disco provides fantastic Mobile Discos in Dartford for your party for all different types of events - a party in a pub, a wonderful wedding reception, a fabulous birthday party, a children's disco or a golden wedding anniversary - we can provide the right mobile DJ and mobile disco to suit your particular requirements.
If you are looking for DJ Hire Dartford you have come to the right place!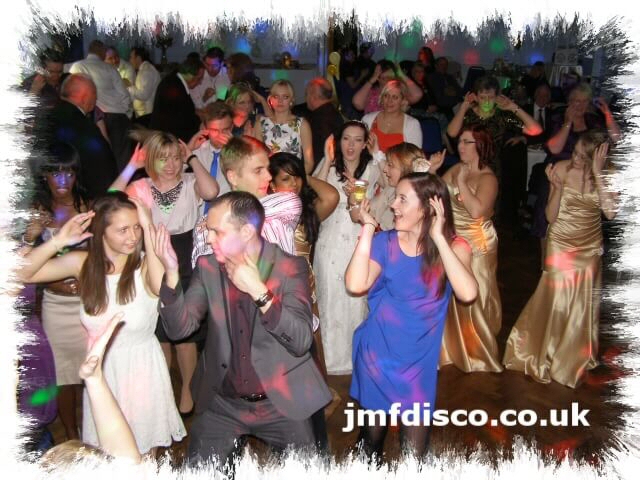 JMF Disco is owned and presented by DJ John Padmore, a reliable, experienced Mobile DJ in Dartford.
My aim is to provide you with all the help you need, from your initial phone call to seeing your happy guests leaving after a wonderful nights entertainment, at your perfect party provided by Mobile Disco Dartford.
As well as a great mobile DJ, neat and tidy disco set up and impressive disco lighting, we will also provide you with our special Party Planner Pack to help you set out how you want your evening to run and list our all your favourite songs you want us to play.
As part of the package I will provide you with my special party planner pack to help set out how you want the evening to run, timing of speeches and cake cutting, opening of buffet etc., you can list out all your favourite songs you want playing etc. so that we all come prepared for what you want to happen and when, playing great music, with all your favourite songs that you and your guests will dance the night away to. Good parties do not just happen they are created and managed - together we can ensure yours is not just another average McDisco party.
JMF Disco's Mobile Disco Dartford service will provide you with the entertainment you want for your dream party - why settle for anything less?
Call or email JMF Disco for your Mobile Disco Dartford to find out how I can help you.
Have a look at the Celebrations page for more details of the Mobile Disco Dartford service I offer and call me to discuss how I can help make your evening very special.
I like to provide my clients with that little bit more - I provide them with what they want, need and deserve for their party - it is a special occasion and should be treated as such. Doing it right requires a Mobile Disco with the right skills and resources that I will bring to your celebration.
Contact John on Tel 01795 429777, Mobile 07895 546183 or by email to discuss your Mobile Disco needs or questions.
JMF Disco offers a special Mobile Disco service in Dartford and surrounding areas. Venues that have been performed at or are available for your celebration:
Acacia Hall, Dartford

Amar Hall, Dartford

Bexley Park Sports & Social Club

Brent School Old Boys Social Club, Dartford DA2 6AS Phone: 01322 222741
Champions Bar, Dartford FC

Crayford Arrows, Dartford

Dartford Conservative Club, Dartford

Dartford Cricket Club
Dartford Golf Club

Dartford Football Club
Dartford Irish Club

Dartford Stone Lodge Indoor Bowls Club

Dartford Working Men's Club, Dartford

Dartfordian's RFC, Dartford

David Lloyd Club, Dartford
David Lloyd Dartford have a large function suite upstairs with it's own bar and balcony, suitable for weddings, birthday parties and small rooms available for children's parties.

Fairfield Swimming Pool, Dartford

Fleetdown Community Centre, Dartford

Fleetdown FC Hall, Dartford
Goals, Dartford
Goals in Dartford has a great function suite available for hire for any occasion.

Hawley Pavilion

Hilton Dartford Bridge, Dartford

Joydens Wood Community Hall, Dartford

Living Well, St Edmunds Church,St Edmund's Road, Temple Hill, Dartford, Kent DA1 5ND Phone: 01322 311201

Merry Chest Cafe & Bar

St Anselm's Parish Centre, 89 West Hill, Dartford DA1 2HJ Phone: 01322 280130

Stone Cricket Club, Stone

Stone Pavilion, Stone

Sutton At Hone Village Hall, Sutton At Hone

The Ship Inn, Dartford

as well as your local favourite pub, club or hall.


Dartford Resources
JMF Discos Services In Dartford
School Proms In Dartford
School Proms are big news at the moment, an idea that has been 'imported' from America where they have been popular for many years. They are a formal party to celebrate an important date at school such as leaving primary school to go onto secondary education, or completing school at 16 or 18 years old. If you sending of your pupils in style, get in contact with JMF Disco to find out how we can help you organize a great school prom that they will remember forever!
Christmas Parties In Dartford
JMF Disco can provide the perfect entertainment package for your Christmas party.
Christmas parties are a great way to bring people together over the festive period, whether it is for family and friends, maybe a good fundraiser for your club or an end of year works celebration.
With our Christmas Party Planner Pack we provide you with you, can set out how you want your evening to run - may be some background music during your meal, provision of a wireless microphone for any speeches, presentation, raffles, secret Santa events and let us know all your favourite Christmas tunes you want us to play to add to the festive atmosphere - book now as Christmas dates get filled up very quickly.
We can provide a comprehensive service to hotels at great rates for Christmas residencies.
Christening or Naming Ceremonies in Dartford
If you are planning to have your baby christened or have a naming ceremony to celebrate your child's birth, there is no better way to bring family and friends together than having a party - a few drinks, some food, maybe some games to keep the kids occupied (big kids can join in as well!) and a bit of music to bring it all together - get in contact with us today to see how we can help to bring this all together for you.
Housewarming Party Disco
A housewarming party is a party traditionally held soon after moving into a new residence. It is an occasion for the hosts to present their new home to their friends, post-moving, and for friends to give gifts to furnish the new home. Housewarming parties are generally informal. JMF Disco can help add to the party atmosphere and keep your guests entertained.
Retirement Party Disco DJ Hire
You may be planning your own retirement party or planning a special send off for a colleague and/or friend, arranging a truly special party can be difficult for this one time event, but JMF Disco are here to help.
We will provide you with a good experienced DJ with a wide musical knowledge and huge library of music with most of the popular tunes throughout the decades, that knows how to get the party started, knows how to read a dance floor, and will play all your favourite tunes to ensure your retirement party is one they will remember!
Wedding Anniversary Parties In Dartford
Anniversaries are important dates to celebrate, a time to celebrate the joys of today, the memories of yesterday and a time to look forward to the joys of the future.
So whether you are celebrating a 10th, 20th, 25th, 30th, 40th, 50, or 60th wedding anniversary - typical landmark dates or any other, JMF Disco can help you host a great party, providing your with our special Wedding Anniversary Planner Pack to help plan how you want your celebration to run and play all your favourite tunes that you and your family and friends will dance the night away to.
Recent News
Check back soon for an update
Additional Party Services
We can also provide the following additional services to make your event extra special.
Please ask about prices when making an enquiry with us.
Keeping up to date with the latest DJ disco music - 1st December 2023 Chart News
Staying current with all the latest chart hits is part of the work that goes on in the background to ensure your mobile discotheque has all your favourite latest greatest tunes.
This week Jack Harlow remains in the top spot in the singles chart with Lovin On Me and Take That take the top spot in the album charts with This Life.
Full details here.