Equipment Used For Your Mobile Disco
JMF Disco only uses professional audio and lighting equipment to provide an excellent sound and a fantastic light show to suit the venue and number of guests at your function. That's really all most people need to know (DJs are more interested in the equipment than the clients normally!!) but a bit more information is given below to demonstrate JMF Disco can cater for a variety of functions.
A focal point DJ Booth with starcloth is used to cover the myriad of cables and equipment used, the starcloth has many twinkling LED lights that gives a sophisticated look to the booth.
Music is seamlessly mixed via a Denon mixer with professional microphones for DJ 'narration'. Top quality wireless microphones can also be provided for your speeches, raffles etc.
A TFT Karaoke screen and up to 5 microphones can also be provided if you want to add the karaoke package for your event.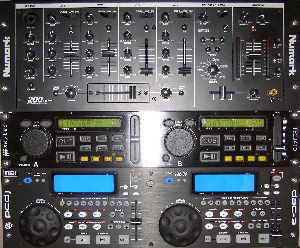 The equipment used is safe and reliable. All equipment is checked before and after each use to ensure your function goes without a hitch. Even if something does fail, backup equipment is always taken to ensure that the party goes on - no matter what.
All equipment is independently PAT (Portable Appliance Test) tested by an electrical engineer to ensure it is safe to use. Some venues insist that they see the PAT Certificate before a disco is allowed to set up, JMF Disco's PAT Certificate is available on request if you require it.

The sound system used will either be a 2 or 4 speaker set up to suit the size of the venue and number of guests (up to 3.4 kW rms) that will play music at the volume you want it to be played at.
Music is played by either a specialist computer based advanced DJ/Karaoke System offering near instant track access for requests or via professional dual cd players.
A variety of computer controlled modern lights will be provided with the disco which can include moving heads, moonflower type effects, LED lights, lasers and a disco ball. The exact lighting system used is dependent on the size of the venue, number of guests and the effect/style you require at your function - you may want subtle lighting effects, you may not require any lights or you may want a full on club night feel to your party - whatever you want JMF Disco can provide it.
A smoke machine is also available, which improves the effect of the lights used - the beams of light are highlighted in the mist, however many venues do not allow the use of smoke machines due to smoke alarms so please check with the venue operators before requesting the use of a smoke machine - you don't want the flashing blue lights of the fire engine at your party!!
A bubble machine can also be provided - very popular with children's parties and a popular effect for those first dance wedding photos - thousands of bubbles floating in the air.
Contact JMF Disco to discuss your requirements
- I'm sure I can provide you with the party you really want!